Computing
All Things Are Possible
At Benedict Biscop we want our children to learn that all things are possible. We want our children to aspire and to achieve highly.
We want our children to develop expertise as Computer Scientists, develop expertise in information technology and be model digital citizen, developing knowledge and automaticity through the core element of computing which are computer science, information technology and digital literacy.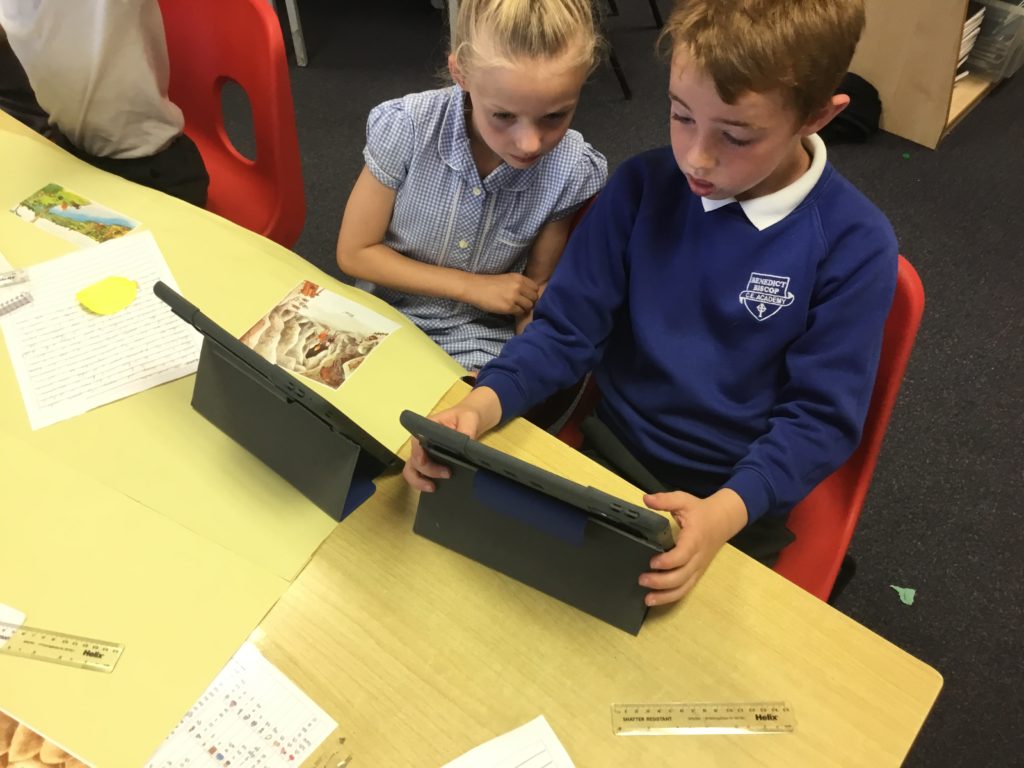 National Curriculum for computing aims to ensure that all pupils:
Can understand and apply the fundamental principles and concepts of computer science, including abstraction, logic, algorithms and data representation
Can analyse problems in computational terms, and have repeated practical experience of writing computer programs in order to solve such problems
Can evaluate and apply information technology, including new or unfamiliar technologies, analytically to solve problems
Are responsible, competent, confident and creative users of information and communication technology
We believe that computing should develop children with the following essential characteristics to help them become IT professionals and Computer Scientists:
A love of technology and understand a variety of technology that can be used for a range of different purposes.
To be patient and be able to problem solve to ensure that the technology is working correctly and effectively.
To be resilient and continue to correct and develop the way technology is used.
To be able to problem solve and find a solution to problems when using technology.
To think logically and work methodically to solving problems with technology.
To work collaboratively with other people, in person and online, to ensure that problems are solved.
To be creative and use a range of different software and programs to enhance and develop their work.
To use and apply computational thinking to the core elements of computing
Where Does It Start?
Our pupils begin their computing journey at Benedict Biscop in our Early Years environment. Our provision has been carefully created, to provide a range of opportunities and experiences with technology both indoor and outdoor to help develop computing knowledge and skills.
In Key Stage 1 and 2, where we actively encourage cross-curricular learning, to give pupils maximum opportunity to transfer skills and knowledge
The Pillars Of Computing
We have mapped out how our computing curriculum aligns to the National Curriculum pillars of Computer Science, Information Technology and Digital Literacy- at Benedict Biscop these are mapped out against our four unique curriculum strands which separate Digital Literacy into 2 separate areas for discrete teaching. Our Digital Safety strand 'Online safety and apporpriate use' has been carefully mapped out across our Computing and Personal Development curriculum using the Project Evolve learning progression.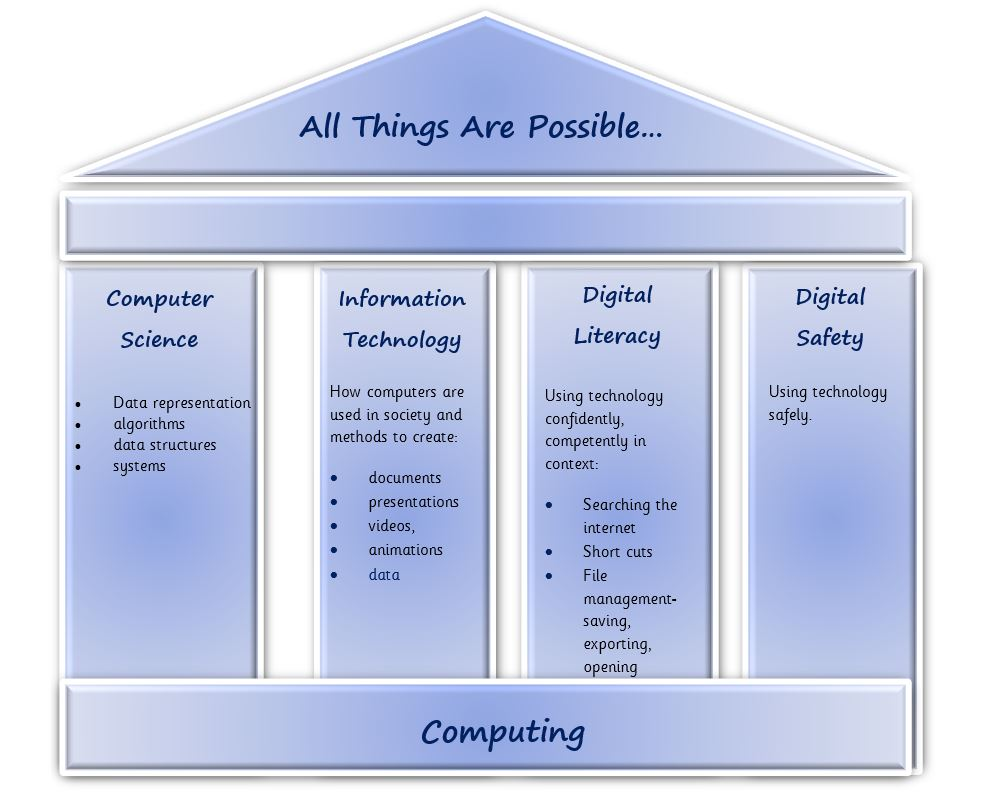 Our unique is designed to teach beyond the National Curriculum in order for our pupils to prepare them for the next stages of their education and beyond into adult life. As part of our bespoke curriculum, we explore the History of Computing to ensure our pupils understand what Computing was like in the past and be able to compare this to the present day.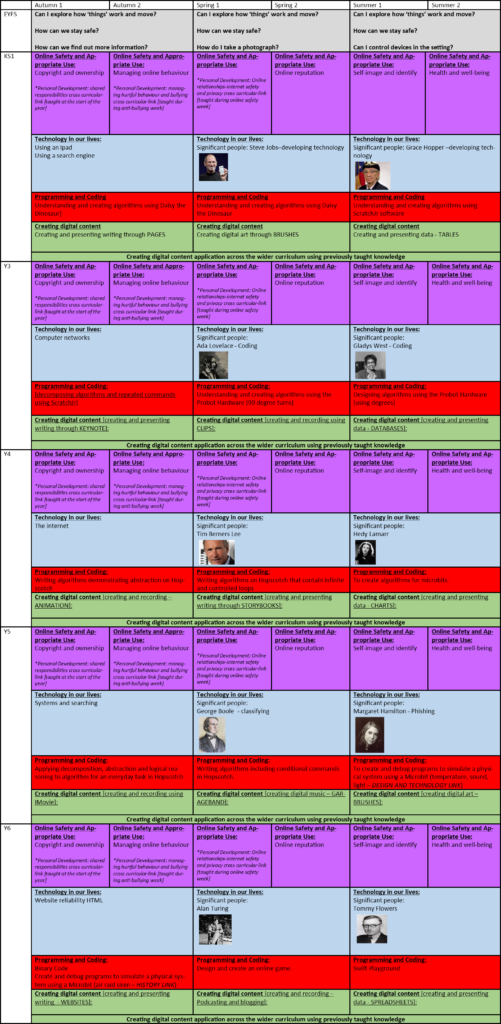 SEND
Benedict Biscop promotes a curriculum that puts all pupils, regardless of their needs, at the heart of what we do. By building mutual respect, we accept others for their differences believing that everyone is special and everyone has something to offer. Our inclusive and enriching curriculum, written for all children, provides pupils with meaningful and aspirational experiences as well as promoting personal growth for life-long learning. When the curriculum needs adapting, to suit the needs of individual children, appropriate modifications are made by the class teacher with support of the SENDCo and the Curriculum Subject Lead.
Reading In Computing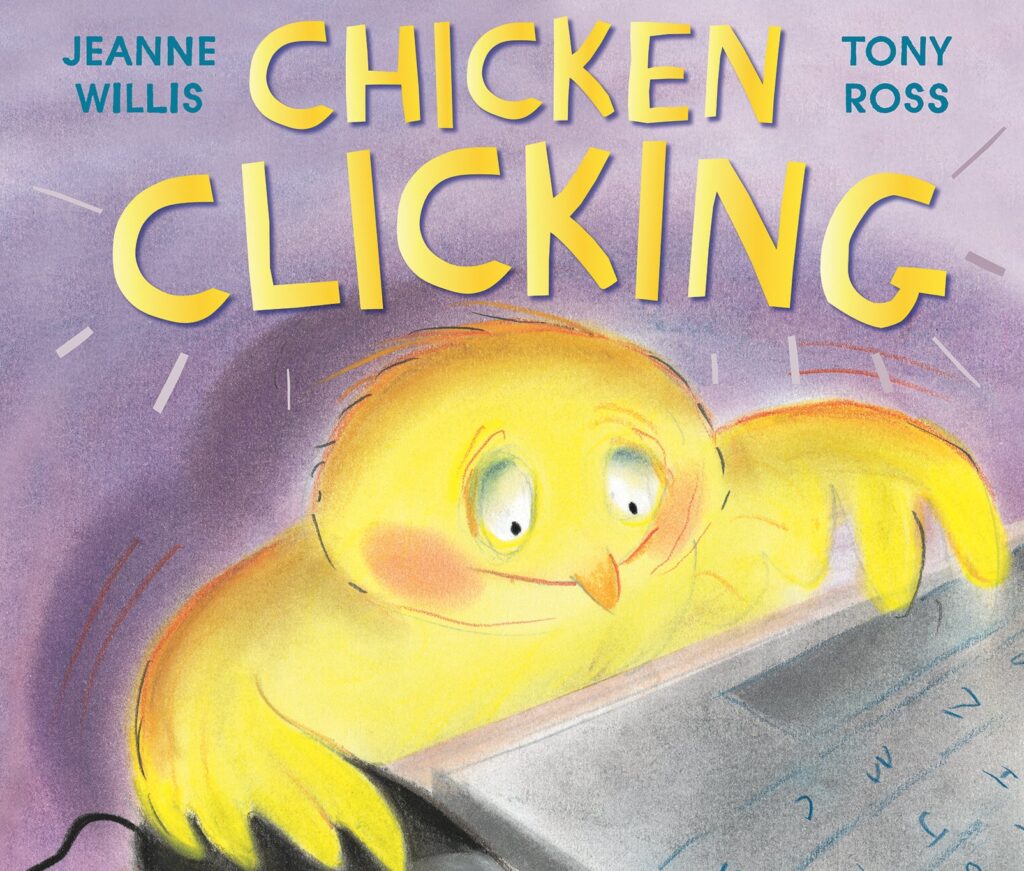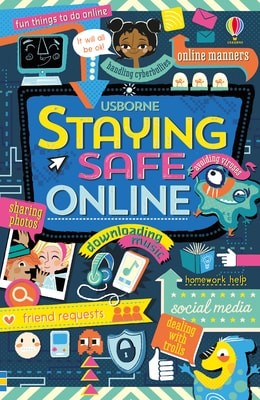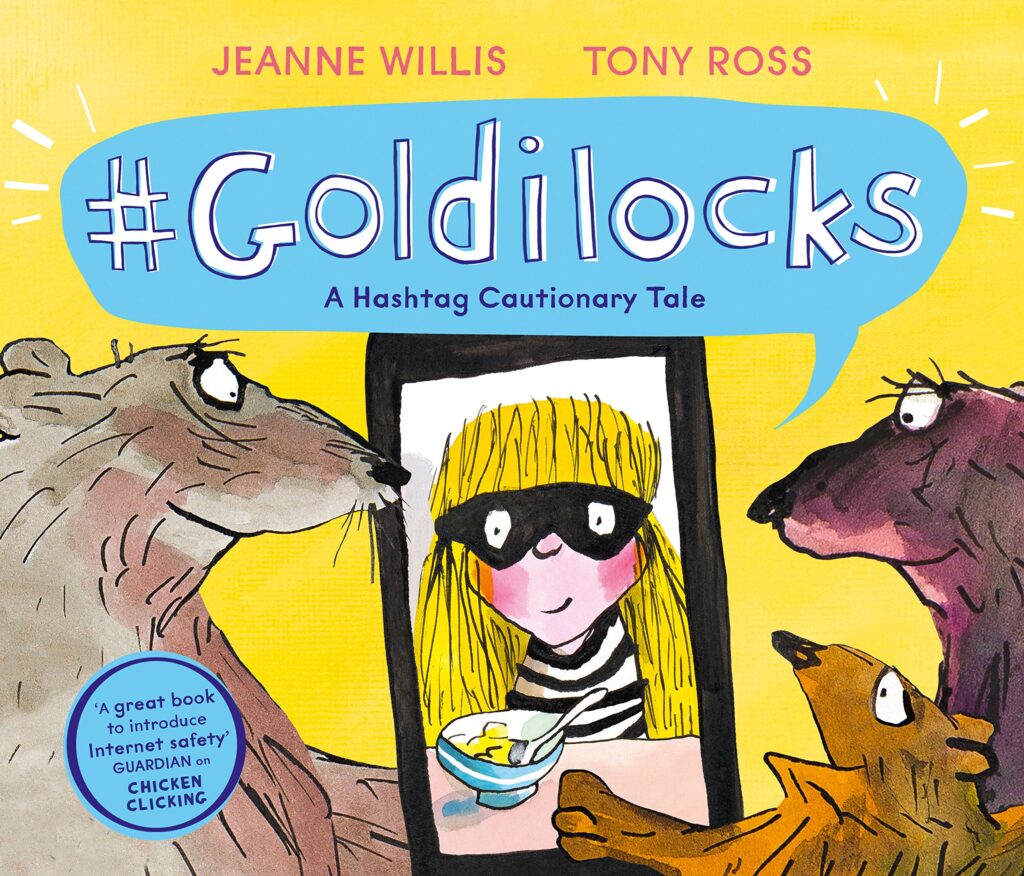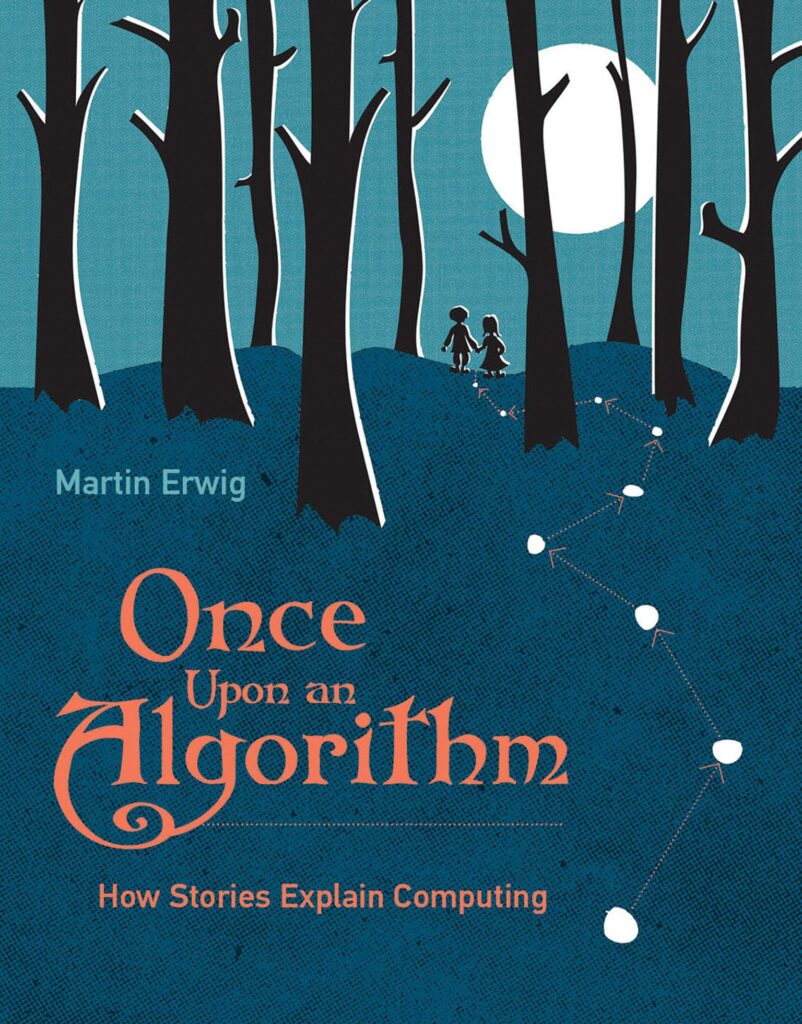 Computing & Technology in Action at Benedict Biscop
Digital Leaders
Our Digital Leader team consists of pupils from across the school who have shown a keen interest in computing and technology. The roles and responsibilioties of our Digital Leaders are to be able to:
Be excellent online role models
Support others across school to improve within Computing
Be advocates for positive online behaviours
Help those who have online issues
"Our work is important because we believe that everyone should understand how to use technology effectively, appropriately and safely. As a team, we believe that we can support our peers and teachers to become active participants within the digital world."
MS TEAMS
MS TEAMS has become an integral part of our school life. MS TEAMS allows us to communicate and collaborate across other schools within the Trust and take part in video conferences across all areas of the curriculum.
Our pupil leaderships use MS TEAMS regularly to work collaboratively, for example, our Digital Leaders meet termly to discuss how we can stay safe online as well as sharing ideas they have.
Online Safety Week
We celebrate Online Safety Week annually focusing on the them set out by UK Safer Internet Centre. This year's theme was "Want to talk about it? Making space for conversations about life online". Across the week children explored their online relationships, discussing and debating how to act appropriately, safely and positively online.
Online Safety runs throughout everything we teach within Computing and cross-curricular learning as we believe that children need to be digitally literate in order to make safe, sensible and responsible decisions when online.
Software & Applications
Within school we use a range of applications to improve the fluency and automaticity of our pupils. These applications include:
Online Learning- Showbie and MS TEAMs
Document Creation- Pages and MS Word
Presentation Creation- Keynote and MS PowerPoint
Data Handling- Numbers, Socrative and MS Excel
Film Making- Camera, Clips and iMovie
Sound recording- Voice memo and Garageband
Coding and Programming- EYFS: Bee Bot and DaisytheDinosaur, KS1: DaisytheDinosaur, Bee Bot and ScratchJr, KS2: ScratchJr, Hopscotch, Microbits and Swift Playground
Investing in Technology
At Benedict Biscop, we strive to become an Apple Distinguished school and as part of journey we have invested in devices. Every child in Year 1 to Year 6 has access to their own iPad and these are used across all areas of the curriculum. This allows us to ensure children are constantly improving their automaticity by using what they learn in Computing with other areas of the curriculum.
We have also invested in a range of programming hardware so pupils can have a hands on and practical approach to programming. We have invested in Bee Bots, Probots and Microbits in order for our pupils to be exposed to a range of programming hardware.
Useful Links
BBC Bitesize KS1 – https://www.bbc.co.uk/bitesize/subjects/zyhbwmn
BBC Bitesize KS2 – https://www.bbc.co.uk/bitesize/subjects/zvnrq6f
SCRATCH Coding – https://scratch.mit.edu/ideas
SCRATCH Games – https://scratch.mit.edu/ideas
Interested in finding out more?
If you would like to find out more about our curriculum. Please contact the school office by emailing BBinfo@nllt.co.uk and we will ask a member of staff to get back in touch a.s.a.p.