English
English at Benedict Bisccop
All Things Are Possible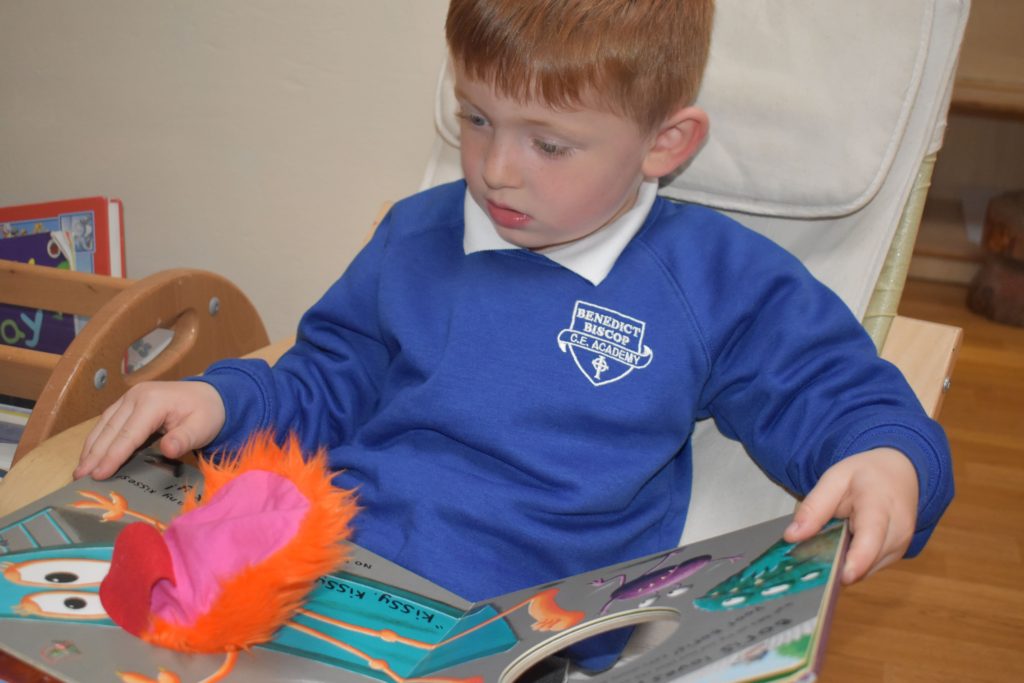 At Benedict Biscop we want our children to learn that all things are possible. We want our children to aspire and to achieve highly. We actively encourage cross-curricular learning, to give pupils maximum opportunity to transfer skills and knowledge, developing our children's spoken language, reading, writing, grammar, spelling and vocabulary through everything they do.
We believe that a thorough grasp of literacy skills is crucial to a high-quality education and will give our children the tools they need to participate fully as a member of society. We know that the sooner children learn to read, the greater their success at school, therefore we put reading at the heart of what we do. We endeavour to engender a life – long love of reading. We recognise that mastery in phonics is fundamental to children being able to access a broad range of genres, across the curriculum. We aim to achieve this by teaching phonics using a highly structured and systematic approach with a relentless drive to address the needs of all learners.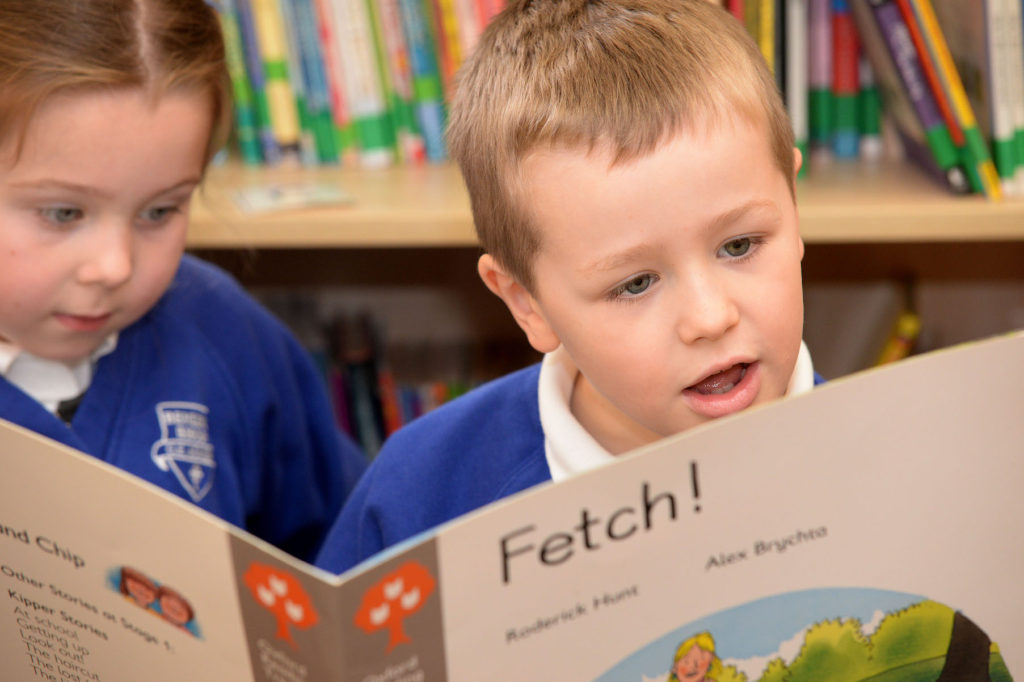 We strive to ensure children become inquisitive about language and its structure, developing creative and enquiring minds, which make connections, problem-solve and learn collaboratively. We want children not only to learn to read but to read in order to learn; reading exposes children to more than just words on a page, it opens their minds to different worlds, characters and experiences and it is inseparable from the writing process. Our aim is to ensure children are motivated to write, take pride in their writing, can write clearly and accurately and adapt their language and style for a range of contexts. We want to inspire children to be confident in the arts of speaking and listening and who can use discussion to develop their learning; we want our children to learn that all things are possible!
Click below to view our: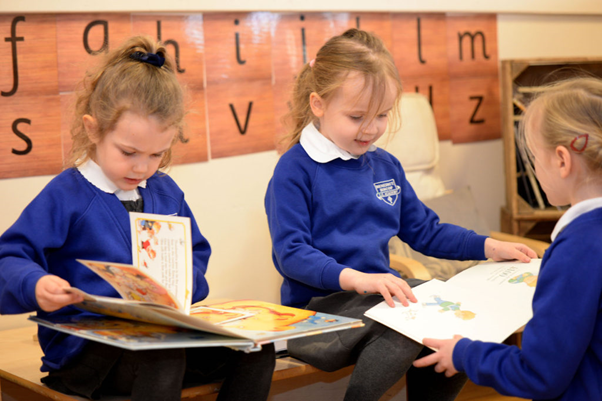 Phonics
It is our intent that phonics will be delivered via a highly structured programme of daily lessons. At Benedict Biscop we currently use Little Wandle Letters and Sounds Revised. This is a full phonics programme, based on the original Letters and Sound scheme previously used in school.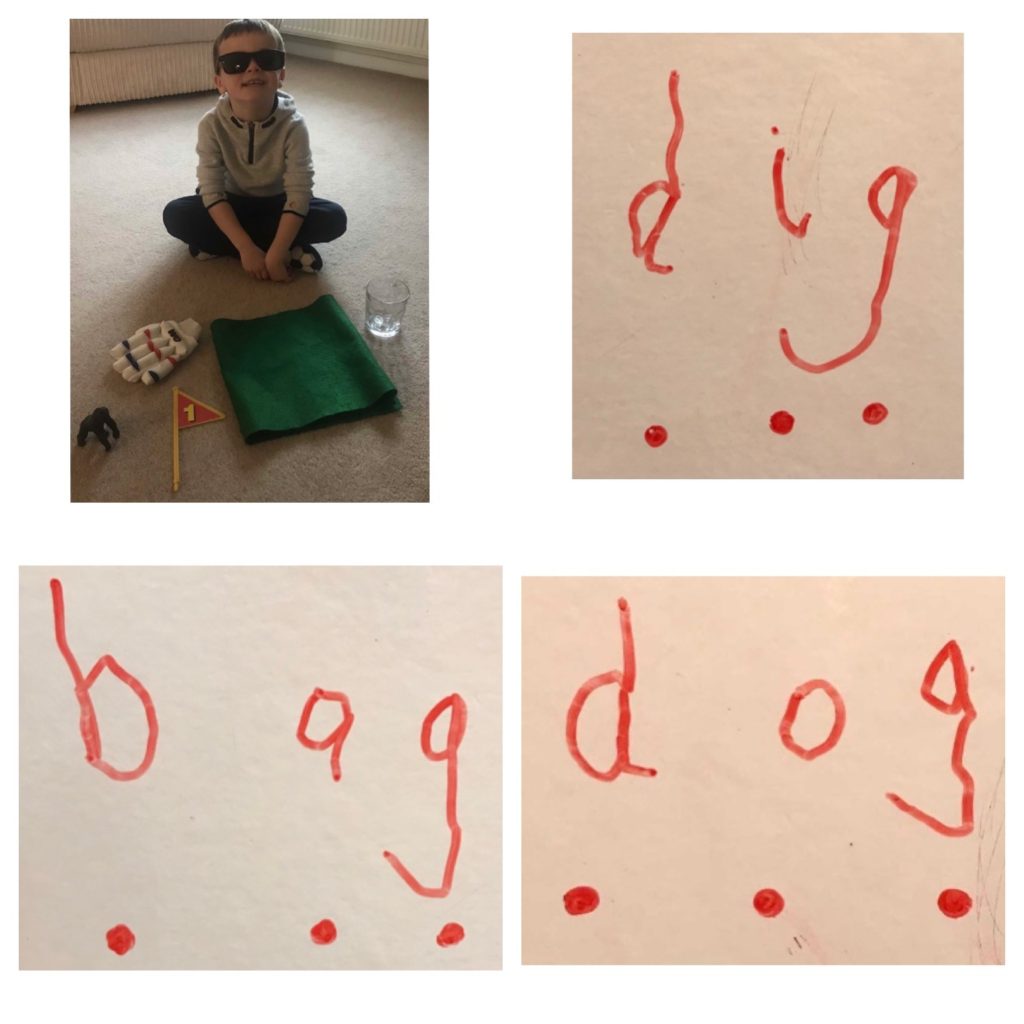 Effective Phonics Practice
Through the English Hubs Programme, seven key features have been identified as characterising phonics teaching in highly successful schools, no matter which validated phonics programme is being used. These are:
direct teaching in frequent, short bursts
consistency of approach
secure, systematic progression in phonics learning
maintaining pace of learning
providing repeated practice
application of phonics using matched decodable books
early identification of children at risk of falling behind, linked to the provision of effective keep-up support.
How does the Little Wandle programme met the criteria- find out here.
Daily Phonics Sessions
Phonics sessions are taught in groups or during whole class sessions according to children's phonic awareness and development, providing a synthetic approach to the teaching of phonics.
There are 3 main elements to a Little Wandle phonics session: revist & review, teach & practise, practise and apply.
Revist & review – In this section we:
activate prior knowledge
get the children ready for new learning and reduce cognitive load
develop fluent reading
support orthographic mapping (the transference of the sounds and words that have been learned into the orthographic store which leads to automaticity).
Teach & Practise – In this section we explicitly teach a new GPC. We teach:
pronunciation of the phoneme
a new grapheme (and the mnemonic if Phase 2, or catchphrase if Phase 3)
how to orally blend with the new GPC
how to blend and read words with the new GPC
how to read a new tricky word
Practise & Apply – In this section we:
practise and apply the new knowledge from the 'teach' part of the lesson
read a caption/sentence which often contain words with the new GPC and often the new tricky word
we practise spelling words with the new GPC or the new tricky word
Note: the caption or sentence is ONLY made up of GPCs and tricky words that the children have been taught to this point.
Review lessons and review weeks are also planned – Children will review prior learning every Friday and one week every half-term.
For support with terminology please see here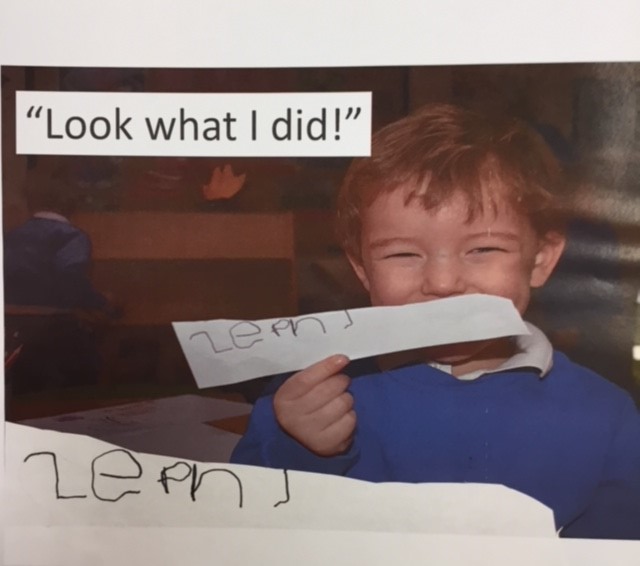 Assessment & Application
Children's progress in phonics is continually monitored and assessed to identify progress within each phase. Where children are not familiar with sounds linked to the phase they have completed, interventions are put in place to help secure rapid progress with sounds they have not yet grasped. This is done daily in the form of "keep-up" sessions.
Statutory Assessment
The National Phonics Screening Check is performed in June of Year 1. Prior to the check, school host a Year 1 phonics workshop, which gives parents information about how they can support their children at home with phonics. The purpose of the screening check is to confirm that all children have learned phonic decoding to an age-appropriate standard. The children who did not meet the required standard for the check in year 1 enter again in year 2 with additional support. As children enter KS2 provision is made for those children still requiring daily phonics.
Phonics to Early Reading
Reading underpins children's ability to access the curriculum and it clearly impacts on their achievement. There is considerable research to show that children who enjoy reading and choose to read benefit not only academically, but also socially and emotionally. To be able to read, children need to be taught an efficient strategy to decode words. That strategy is phonics. Phonic decoding skills must be practised until children become automatic and fluent reading is established.
Fluent decoding is only one component of reading. Comprehension skills need to be taught to enable children to make sense of what they read, build on what they already know and give them a desire to want to read. Reading increases children's vocabulary because they encounter words they would rarely hear or use in everyday speech. Furthermore, children who read widely and frequently also have more secure general knowledge.
How do children practice and learn to read at Benedict Biscop?
At Benedict Biscop, children take home a book as soon as they enter nursery, helping to develop language and early reading skills through picture and simple word books [supporting Phase 1 of phonics]. When appropriate, pupils will progress onto a phonics based reading scheme where children will take home books that match the phonics phase which they are learning.
When ready, children will begin reading practice sessions; these sessions take place 3 times a week. Children learn to apply their phonics using fully decodable books (matched to their phonetical ability) The phonic progression in these books matches the progression of Little Wandle Letters and Sounds Revised.
Each reading practice session has clear focus- this helps to reduce cognitive load and allow effective learning to take place.
The reading practice sessions have been designed to focus on three key reading skills:
decoding
prosody – reading with meaning, stress and intonation
comprehension – understanding the text.
These sessions take place in Reception and Year 1.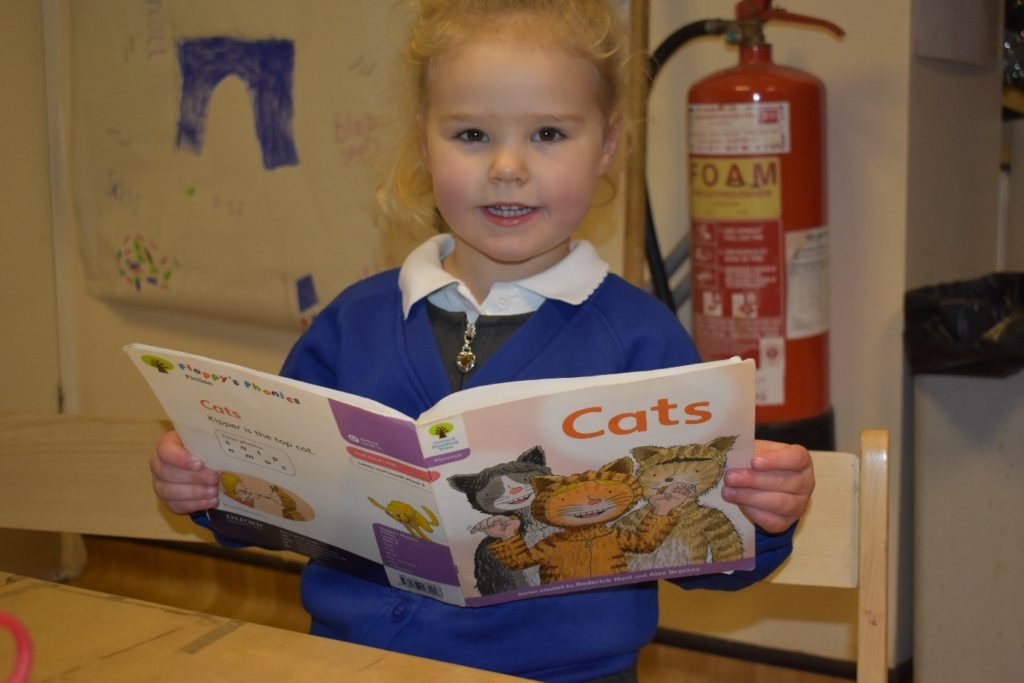 In Key Stage 1, when children are ready, they move onto our Accelerated Reader scheme. As part of this programme, children receive a levelled, self-chosen book. Once they have completed the book they then complete a short quiz to check that pupils have fully understood what they have read. Early levels of the programme are accessible to pupils who are still developing their phonic knowledge and the build onto our existing and
The Accelerated Reader scheme progresses from early readers through to secondary age expectations, ensuring that we don't put a ceiling on the level of reading books our children can access. Books are marked with a LY for lower years and a ML for middle years – this means that pupils can access levels of reading books that are age appropriate content.
Guided Reading – Each class, from Year 1 to 6, engages in a daily Guided Reading session. This is usually completed as a whole class with a focus on a particular text or text extract. Children are encouraged to "book talk" the text, questioning, summarising, predicting and focusing on key vocabulary and the development of this throughout the week.
Our School Library
Junior Librarian is used throughout school and in our school Library. Children are given the opportunity to checkout an additional book alongside their Accelerated Reading or Phonics based book if they wish to do so. This might be by an author they know and love or a non-fiction to help with homework or even a poetry book. Children can also visit the library at specific periods within the school day to read in a relaxed space.
Reading Across the Curriculum
Reading skills are not just taught discretely in guided reading sessions, but are covered as part of our English sequence across the week [where we understand that reading helps develop understanding of genres, vocabulary and sentence structures prior to writing], but also across the broader curriculum e.g. through History.
Please refer to our Reading and Early Phonics Guide below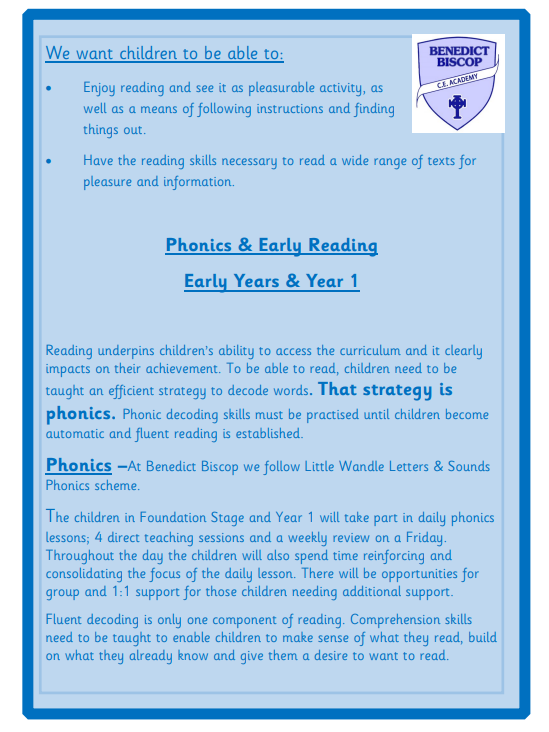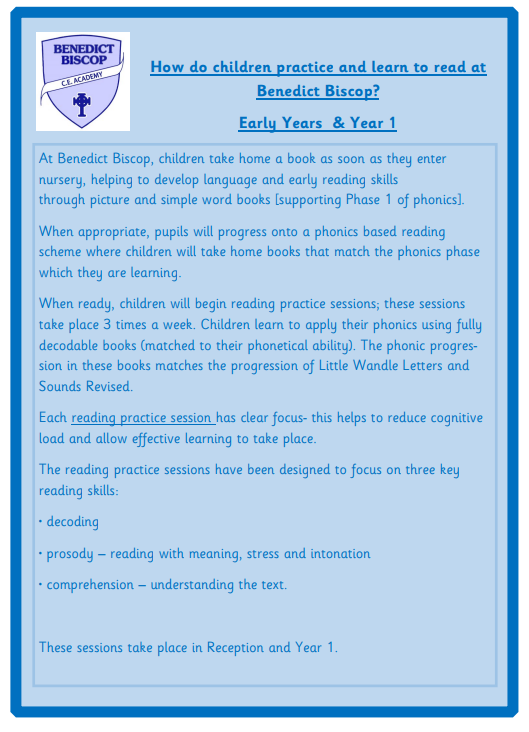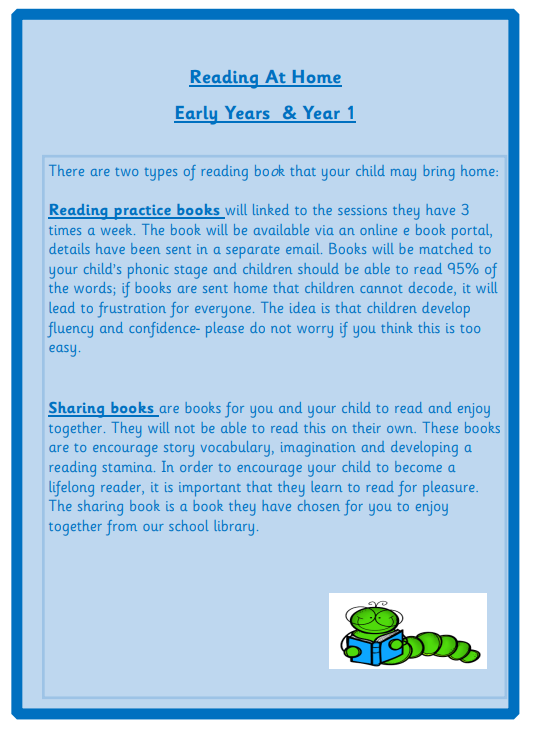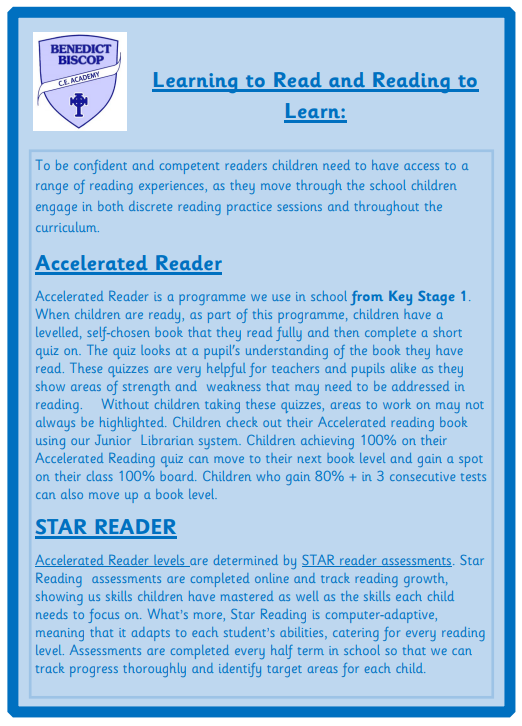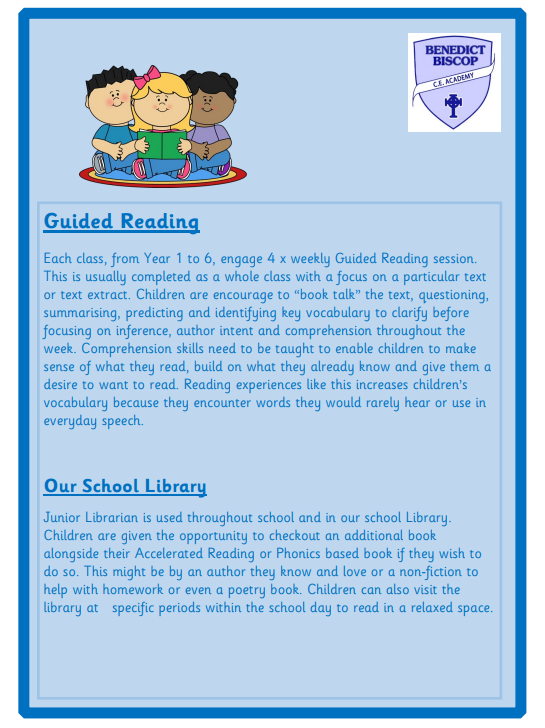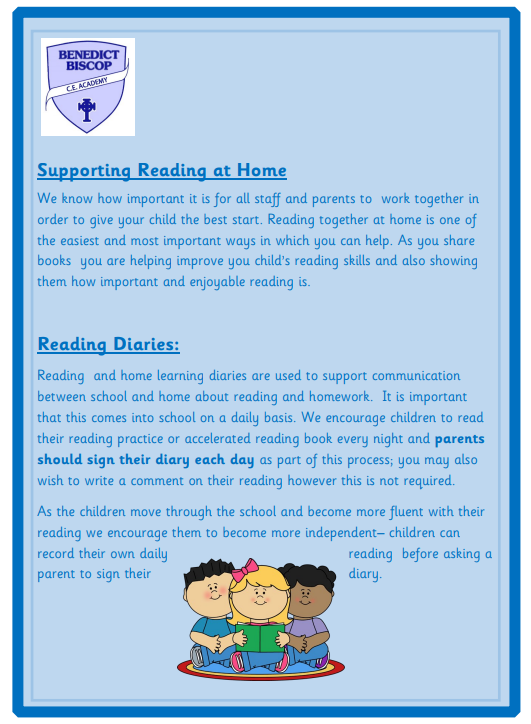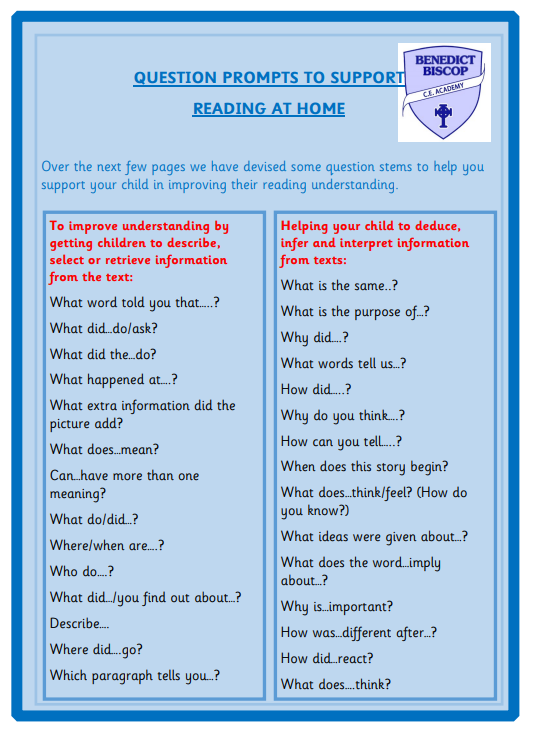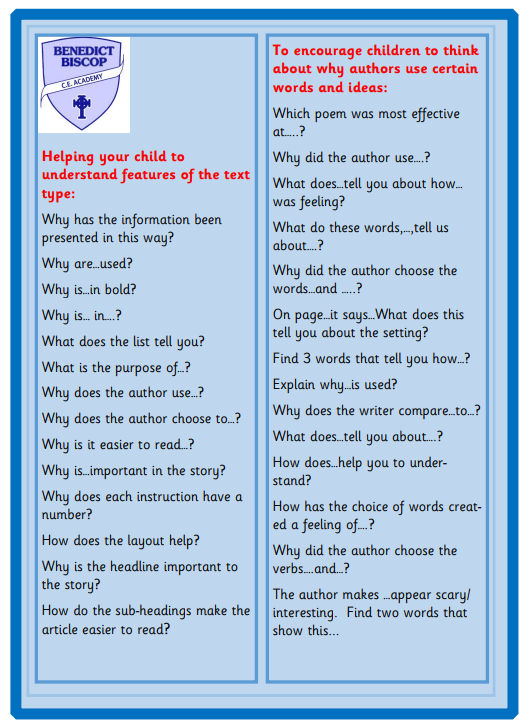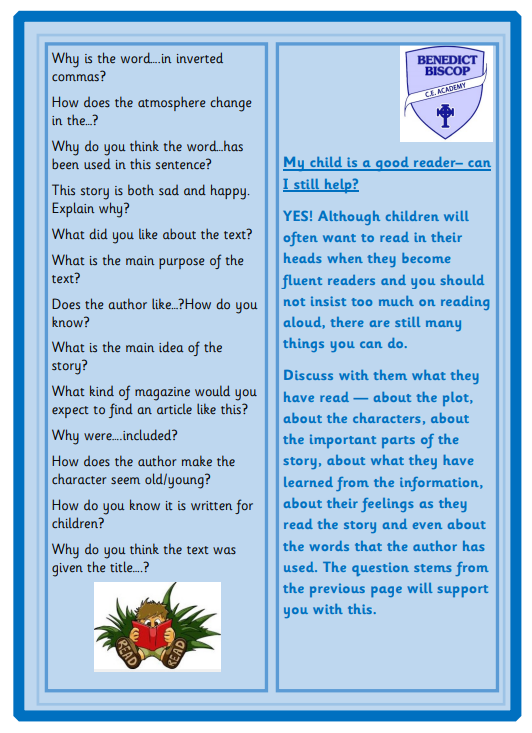 Interested in finding out more?
If you would like to find out more about our curriculum. Please contact the school office by emailing BBinfo@nllt.co.uk and we will ask a member of staff to get back in touch a.s.a.p.