Music
All Things Are Possible
At Benedict Biscop we want our children to learn that all things are possible. We want our children to aspire and to achieve highly. We want our children to develop as musicians, developing music knowledge and skills.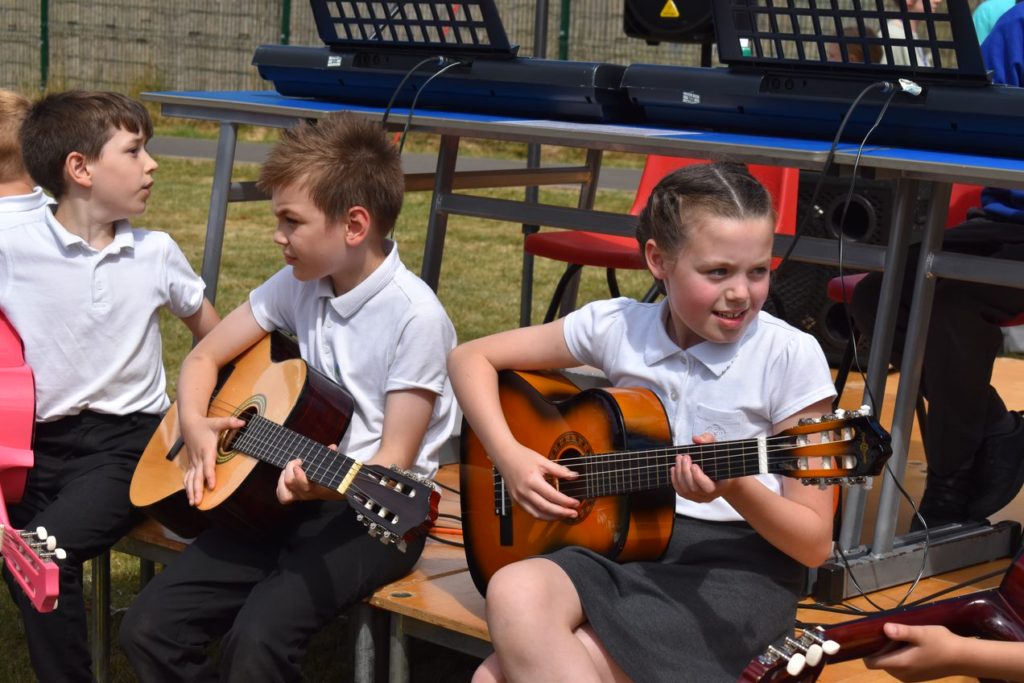 The National Curriculum for history aims to ensure that all pupils:
perform, listen to, review and evaluate music across a range of historical periods, genres, styles and traditions, including the works of the great composers and musicians
learn to sing and to use their voices, to create and compose music on their own and with others, have the opportunity to learn a musical instrument, use technology appropriately and have the opportunity to progress to the next level of musical excellence. To understand and explore how music is created, produced and communicated, including through the inter-related dimensions: pitch, duration, dynamics, tempo, timbre, texture, structure and appropriate musical notations
We believe that music should develop children with the following essential characteristics to help them become musicians:
A rapidly widening repertoire which they use to create original, imaginative, fluent and distinctive composing and performance work.
A musical understanding underpinned by high levels of aural perception, internalisation and knowledge of music, including high or rapidly developing levels of technical expertise.
Very good awareness and appreciation of different musical traditions and genres.
The ability to give precise written and verbal explanations, using musical terminology effectively, accurately and appropriately.
A passion for and commitment to a diverse range of musical activities.
Where Does It Start?
Our philosophy of music education is based on the principle that it should be fun and engaging for all concerned. Every child is a born musician, and music plays a role in every aspect of our lives – wherever and whoever we are.
Pupils begin their Music journey at Benedict Biscop in our Early Years environment. Our provision has been carefully created, to provide a range of opportunities throughout the day to help develop music knowledge and skills.
By the time our pupils leave our school, we aim for them to be able to sing and play musically with increasing confidence and control. They should develop an understanding of musical composition, organising and manipulating ideas within musical structures and reproducing sounds from aural memory.
In Key Stage 1 children are taught to:
Use their voices expressively and creatively by singing songs and speaking chants and rhymes
Play tuned and untuned instruments musically
Listen with concentration and understanding to a range of high-quality live and recorded music
Experiment with, create, select and combine sounds using the interrelated dimensions of music
In Key Stage 2 children are taught to:
Play and perform in solo and ensemble contexts, using their voices and playing musical instruments with increasing accuracy, fluency, control and expression.
Improvise and compose music for a range of purposes using the interrelated dimensions of music.
Listen with attention to detail and recall sounds with increasing aural memory.
Use and understand staff and other musical notations.
Appreciate and understand a wide range of high-quality live and recorded music drawn from different traditions and from great composers and musicians.
Develop an understanding of the history of music.
The Pillars of Music
Knowledge in Music
Knowledge in music is broken down into two main types:
Substantive knowledge: knowledge of the key elements/inter-related dimensions of music (pulse, rhythm, pitch, tempo, dynamics, timbre, structure, texture, notation)
Disciplinary knowledge: the interpretation on the interrelated dimensions of music and how this knowledge is used when singing, playing instruments, improvising and composing, to develop creative and original pieces and performances
Deepening children's understanding of the elements/ interrelated dimensions of music is essential in order to meet the aims of the national curriculum and allow children to develop as musicians! Using a spiral approach and deliberate practice, children are able to develop and demonstrate fluency and therefore better application and interpretation of these elements. Progress in music requires children to develop musically across 3 'pillars' that connect skills and knowledge learned as a musician.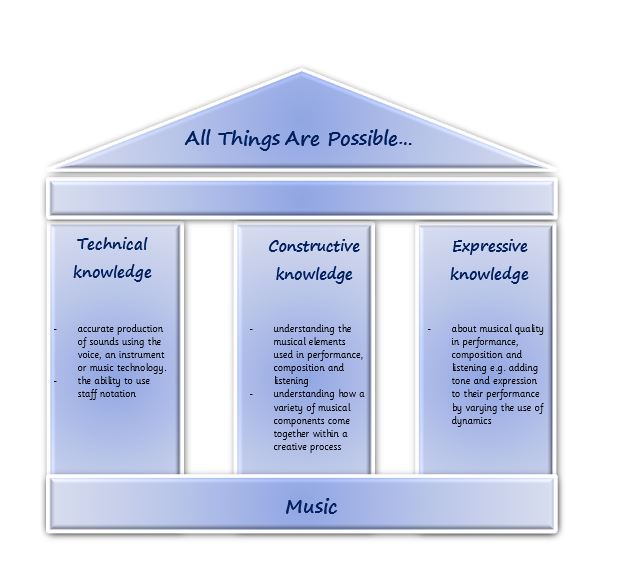 Pillar 1 – Technical
the accurate production of sounds using the voice, an instrument or music technology.
the ability to use staff notation and other systems such as learning by ear or chord symbols for the communication of music.
Pillar 2 – Constructional
the knowledge of how musical elements, such as harmony, melody and rhythm come together.
knowledge about the components of composition: what we need to include in compositions and how we put a composition together.
Pillar 3 – Expressive
about expressive responses linked to music
focus on musical quality in performance, composition and listening, including how this is affected by history social context and purpose
knowledge and understanding of how the interrelated dimensions work together to give musical meaning
Together, these pillars contribute to ensuring children develop 'musical understanding' and become musicians.
Curriculum Overview & Design
Year Group
Autumn 1
Autumn 2
Spring 1
Spring 2
Summer 1
Summer 2
EYFS
What can you hear? Can I sing familiar songs and rhymes? Charanga unit: Little angel gets her wings
What sounds can I make with my body? Can I sing familiar songs and rhymes? Charanga Unit: Musical activities
Can I explore instruments? Can I sing familiar songs and rhymes? Charanga Unit: Our world
Key Stage 1 Cycle B
Pulse, rhythm and pitch
Bells ring out
Inventing a Musical Story
Exploring Improvisation
Glockenspiel Stage 1
Glockenspiel Stage 2
Year 3
Writing music down
Class instrument – Recorders Playing in a band
Class instrument – Recorders Compose using your imagination
More musical styles
Enjoying Improvisation
Rec suggested pathway
Year 4
Musical structures
Class instrument – Ukulele Exploring feelings when you play
Class instrument – Ukulele Compose with friends
Feelings through music.
Expression and improvisation.
The show must go on.
Year 5
Melody and harmony in music.
Sing and play in different styles
Composing and chords.
Freedom to improvise.
Music technology unit – Garage Band Freedom to Battle
Music technology unit – Garage Band Battle of the bands
Year 6
Music and technology
Develop ensemble skills
Creative Composition
Music styles connect us
Music technology unit – Garage Band Improvising with confidence
Music technology unit – Garage Band Farewell tour
In Key Stage 1 & 2, we follow the National Curriculum with a personalised Model Music Curriculum from Charanga. The scheme ensures learning in music is sequenced throughout each year group and supports staff well to deliver the music curriculum. The interrelated dimensions of music are mapped out clearly to ensure that they are revisited constantly ( see below). This provides an effective base on which all other musical learning can be built.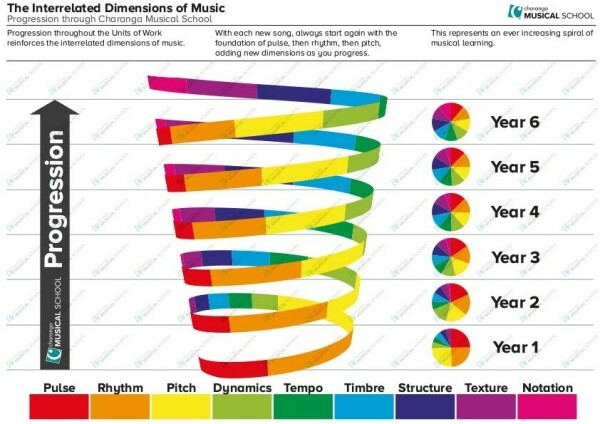 The following learning sequence/activities allow both substantive and disciplinary knowledge to be developed across the 3 pillars of music.
Listen and Appraise
Musical Activities (including pulse and rhythm)
Singing and Voice
Playing instruments
Improvisation / Composition
Perform and Share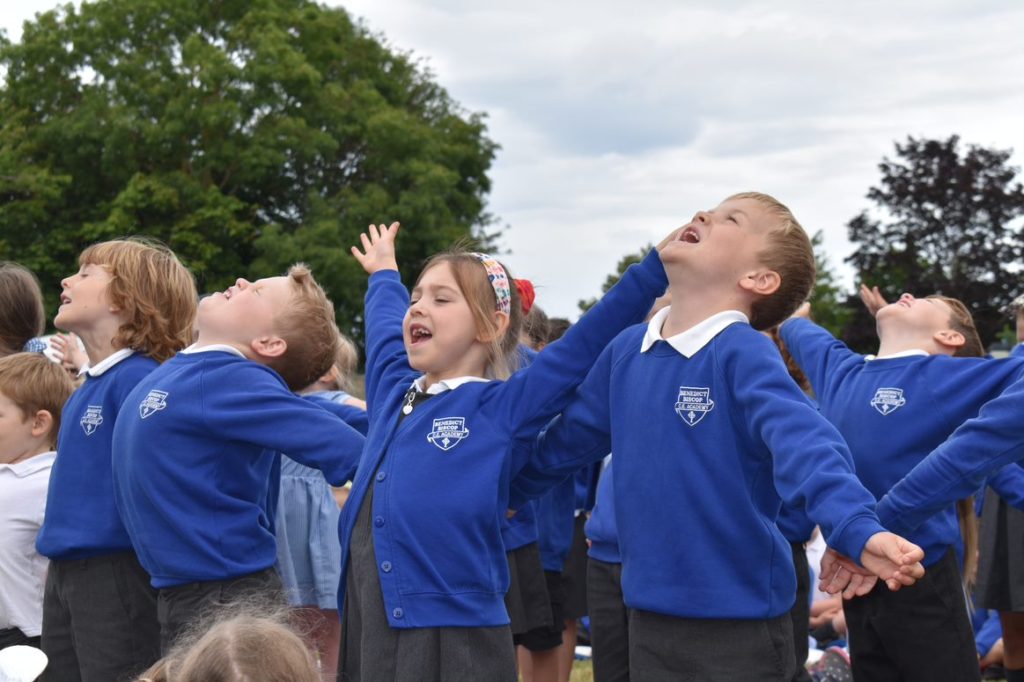 "Music is all around us. It is the soundtrack to our lives. Music connects us through people and places in our ever-changing world. It is creative, collaborative, celebratory and challenging. In our schools, music can bring communities together through the shared endeavour of whole-school singing, ensemble playing, experimenting with the creative process and, through the love of listening to friends and fellow pupils, performing. The sheer joy of music making can feed the soul of a school community, enriching each student while strengthening the shared bonds of support and trust which make a great school."

DfE'Model Music Curriculum
We want our children to have a rich cultural experience, we carefully plan opportunities into our curriculum for children to attend performances and workshops within our locality and region. This helps our children to gain real-life experiences, developing a passion for music they can take with them for life
Choir
Performing Arts Club
Instrumental Lessons
BB Fest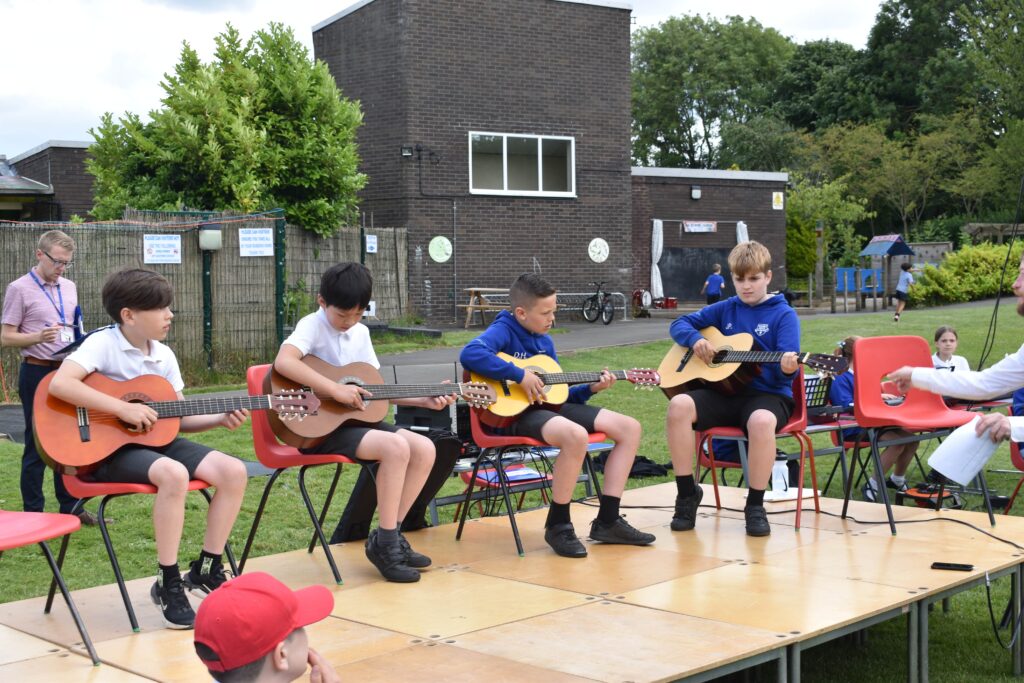 SEND
Benedict Biscop promotes a curriculum that puts all pupils, regardless of their needs, at the heart of what we do. By building mutual respect, we accept others for their differences believing that everyone is special and everyone has something to offer. Our inclusive and enriching curriculum, written for all children, provides pupils with meaningful and aspirational experiences as well as promoting personal growth for life-long learning. When the curriculum needs adapting, to suit the needs of individual children, appropriate modifications are made by the class teacher with support of the SENDCo and the Curriculum Subject Lead
Useful Links
Chrome Music Lab – https://musiclab.chromeexperiments.com/
BBC Bitesize KS1 Music – https://www.bbc.co.uk/bitesize/subjects/z7tnvcw
BBC Bitesize KS2 Music – https://www.bbc.co.uk/bitesize/subjects/zwxhfg8
Interested in finding out more?
If you would like to find out more about our curriculum. Please contact the school office by emailing BBinfo@nllt.co.uk and we will ask a member of staff to get back in touch a.s.a.p.