School Uniform
We believe that uniform plays an important role in the Academy ethos. Children need to be suitably dressed for the school day. A smart appearance helps to maintain high esteem and a sense of pride in the school community and we expect all children to look their best.
Our Academy uniform is royal blue and grey
We recognise that children need comfortable hard-wearing clothes for school, which are easy to wash. Our parents have opted for the following as being practical:
Dark grey skirt/tunic (no more than 5cm above or below the knee), with dark grey tights or three-quarter socks (grey or white)
Dark grey or black tailored trousers (not fashion trousers)
Royal Blue sweatshirt or sweat cardigan (with or without embroidered school badge)
White school polo shirt
In summer, a blue gingham dress may be worn with white socks
Warm coats with reflector strips are available

Uniform with the school logo is available to buy from The School Outfit (also known as Little Gems) and can be bought online here, or in store which is located in Sunderland City Centre.
Uniform can also be ordered online from Emblematic here.
We have recently reduced the number of branded items available to minimise any expectations that all uniform is to be branded. We must stress that while branded uniform is available, it is not compulsory and non-branded uniform can be worn as long as it is in line with our uniform policy (e.g. from a supermarket or high street store).
For health and safety reasons, we ask that children wear plain, dark, (preferably black) sensible, flat heeled shoes for school – sandals, trainers and boots are not suitable for wearing throughout the school day. In wet weather, children need indoor gym shoes and outdoor shoes.
The headteacher has the right to prohibit the wearing of certain types of clothing or particular items which are deemed unsuitable on health & safety or on any other grounds, for wear in school. Denim jeans or chino trousers are not suitable clothing and should not be worn.
The Governors have decided that the adopting of fashionable hair colour and styles is prohibited. This has the potential to place a child at increased risk of bullying and harassment. Shaved hair including patterns and extreme styles are not acceptable in school. Natural hair colour only is acceptable. Hair should normally be tied back. In certain lessons (i.e. P.E., cookery, art etc.) all children with shoulder length hair must tie it back for health and safety reasons.
Children should not wear any jewellery as it poses a risk of injury, or has the potential to place a pupil at increased risk of bullying and harassment. Children are allowed to wear a sensible watch which encourages them to learn to read the time. The wearing of make-up, including nail varnish is also prohibited.
P.E. Uniform
Navy shorts, royal blue t-shirt and plimsoles must be worn for indoor PE.
From September 2022, governors have agreed that children can attend school in their outdoor PE kit on their specified PE day, and must wear the following to ensure the uniform policy is continued to be adhered to:
Plain navy or school branded jogging bottoms (see picture below)
Plain royal blue or school branded t-shirt (see picture below)
School jumper/ cardigan or hoodie.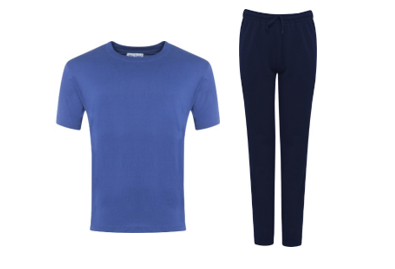 Both of these items are available to buy from our uniform suppliers, with or without the school logo. Children should not wear leggings or items with motifs or such like. It is important that the standards of uniform are still upheld with the outdoor PE kit and this is why we have chosen items which can also be purchased from a supermarket or high street store.
Children should bring their indoor P.E. kit in to school on a Monday in a drawstring bag, which can fit on a peg in the cloakroom. Your child will bring this home every Friday. All children are expected to join in with P.E. lessons. Exceptions are only made when a medical certificate or note is provided.
Please note – P.E Kit is not required for children in Nursery and Reception.
OPAL Kit
OPAL kit should be old clothing which you don't mind your child getting dirty or damaged. Children will wear this on top of their uniform for playtime and lunchtime and it should be long sleeved and full leg length.
Like with indoor P.E kit, children should bring their OPAL kit with in them in to school each Monday in a drawstring bag and they will bring it home every Friday.
Please note – OPAL Kit is not required for children in Nursery and Reception.
Pre-Loved Uniform
In the past many families have donated clothing to the school, which is of an excellent condition, however no longer fits their child. As we recognise that children grow quickly and may damage clothing, we will be introducing a swap shop where we will ask for pre-loved uniform in good condition to be donated to school for other families to take. This is not only of a financial benefit to our families, but helps the environment too so we hope everyone will get involved.
If you have any uniform you would like to donate, please drop it in to the school office. Please cut names out but keep sizes if possible.
Thank you in advance for your support.
Our full uniform policy can be found here.